Spider Gold Facial Service Voucher

*This promotion is supported by DBS bank
*disclaimer – Results may vary base on the individual.
With Expressions Spider Gold Facial Service, You can Look 10 years younger!

Achieve clearer skin and instant face-lift after 1 facial treatment!
Spider Gold Facial at $38.00 & get a FREE Vee Mask worth $15.00
   -   Option 1) Free Vee mask to be used at home
   -   Option 2) Vee mask can be used during the facial treatment
90-minute package includes
Deep cleansing and toning
Spider Web peel off blackheads, whiteheads and impurities at cheek area
Spider 'V-lifting' serum application
Spider 'V-mask' application on cheeks
Spider essence application with massage

'Vee' mask application on full face
EXPRESSIONS
Part ways with cellulite and tummy fat with the help of experienced therapists at Expressions as they put years of expertise into practice for visible weight loss results. With two outlets catering to patrons around the Sin Ming Plaza and Regency House area, Expressions is open to patrons from all walks of life.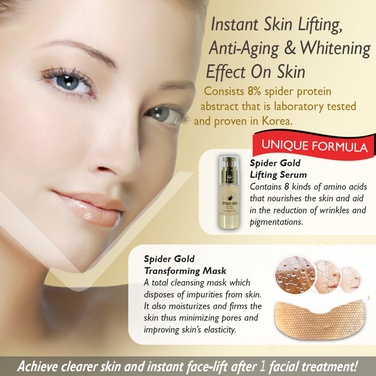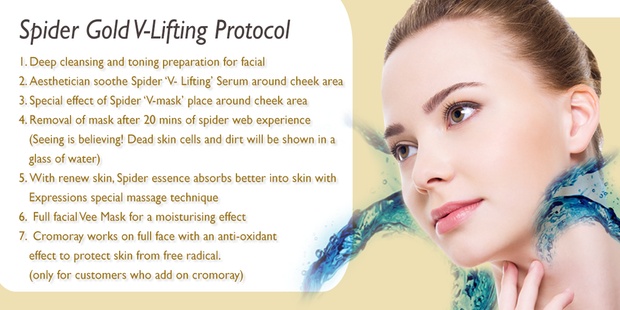 > Minimises Pores
> Refines & Lightens Acne Scars
> Increases Skin Elasticity
> Improves Blood Circulation
> Smoothens Fine Lines & Wrinkles
> Reduces & Lightens Pigmentation and Age Spots
Moisture Lock
Spider Gold solution conditions and protects the skin from dryness. Its moisture locking capability has a resilient effect on the skin for up to 72 hours.
Review
Spider Gold is a specially formulated facial treatment that utilises natural ingredients obtained from the Spiderweb. The extracted proteins contain 10 amino acids, with skin-lifting, anti-aging and whitening components that will help you achieve on all-round good skin complexion.
"The aesthetician specifically tailored the spider gold facial experience according to my skin needs hence allowed me to have the best result for my skin."
- Eileen Cheng (Model / Actress)
* Result can vary based on the individual
 Blogger review 
Blogger Kai Ting 
"After the facial: clean, refreshed and glowing skin! Although it's not obvious in the photo, my cheeks are actually more taut and 'springy' as the Spider Gold facial helped firm and lift my skin! "
>>Read More<
Blogger Denise 
"The most obvious results from this treatment is the lifting and brightening effect. My skin also looks more even toned"
>>read more <<
Terms and Conditions:
·      Voucher purchased is not refundable as it is an exclusive online promotion.
·      Promotion price is only valid for online purchase.
·      Service voucher is only valid from the date of purchase.
·      Each type of service voucher is only limited to one redemption per NRIC.
·      Valid for first-time customers / customers who have not visited Expression the past 6 months. Age 18 and above only.
·      Type of service, duration of service and number of treatments are not changeable.
·      Service Voucher promotion is not valid with other promotions and discounts.
·      Voucher prices displayed are all inclusive of GST.
·      There is no hidden cost in the service voucher unless the customer decides to upgrade the package.
·      Reservation is required.
·      Advance booking of 1 – 2 weeks is recommended for weekends or peak-hour slots.
·      Customer has to present NRIC/valid pass and printed voucher on arrival.
Orchard Studio | 6735 7586 
Thomson Studio | 6513 1444
Static content under tabs
---